FEATURES:
1.Characters:
1)High power LED light source, extra long lifetime (50000 hours)
2)Li-ion battery, compact and light weight, free of maintenance
3)Intelligent charging protection: anti-overcharging, current control, short circuit protection and anti-overheating
4)Safety: EXia IICT4 (Zone 1 and Zone 2) and CE certified. Our these lamps can be used in any other hazardous locations.
5) Water proof, current shock proof, moisture proof and impact proof
2: Instructions for use
1)In the first time using lamps,pls use our special charger or accorded charging rack to charging lamps firstly.when the lamps are under charging,charger indicated light is RED COLOR,when the charger indicated light turned GREEN COLOR,it means that charger have finished charging.
2) When you press the button firstly, the main light and the auxiliary lights are on , press secondly, the lamp is off, press thirdly, the main light is on and the auxiliary lights are off, press fourthly, the lamp is off. KL2.5LM-C cordless cap lamp just has one main light, and has one strong brightness lighting.
3: Cautions
1)It is prohibited to assemble the lamp head or to replace the lighting source inside the mine.
2)Since the charger is not equipped with anti-explosion mechanism, it is prohibited to charge the lamp inside the mine.
3)Only maintenance personal can disassemble or repair the lamp and the charger.
4)It is strictly prohibited to throw the battery into fire or to heat it.
5)No shortcut the battery or to disassemble the battery.
6)Dispose used batteries suitably.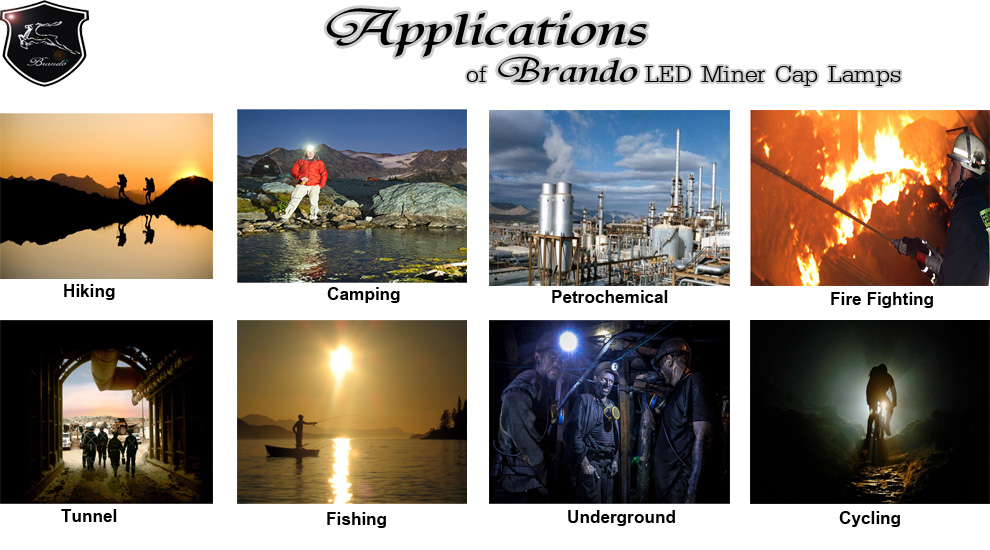 TECHNICAL PARAMETERS:
| | |
| --- | --- |
| Light source | 1pcs main light and 6pcs auxiliary lights |
| Battery capacity | 2.8Ah |
| Rated Voltage | 3.7V |
| Main light current | 230mA |
| Power of the main light | 0.69W |
| Illuminous | 96LUM |
| Brightness of the main light | 3500lux |
| Life span for main LED | 100000hours |
| Battery cycles | 1200 cycles |
| Working time | 13 hours |
| Weight | 128g |
| Water-proof grade | IP65 |